Why Web Accessibility Matters to Your Business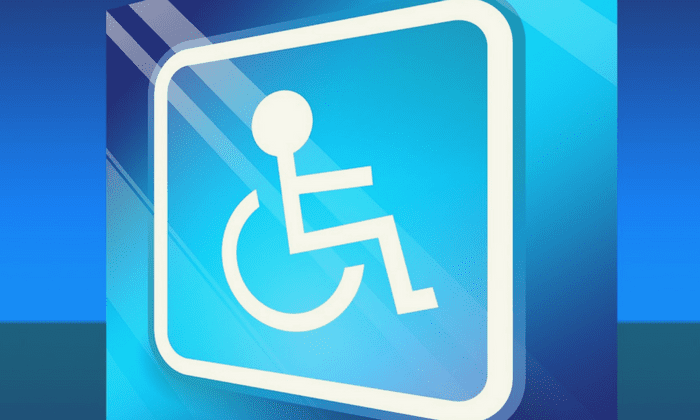 Did you know your business can be sued for not having an accessible website?
Many small business owners are unaware of this.
We don't want your website to become a liability for your business, so listen up!
Web Accessibility is a fancy term for creating a website that can be used by as many people as possible, and it matters to your company more than most businesses realize.
In this post we discuss why developing a web accessible website is crucial for today's businesses, not only just from a liability sense but in all aspects as well.
Here are the hard facts:
Web Accessibility Matters from a Legal Perspective

As well as from a Business Perspective
Critical from a Financial Perspective
It Matters from an Empathetic Perspective
And It Even Matters to your Future Self
5 Reasons Why Web Accessibility Matters to All Aspects of Your Business
1. What are the laws around web accessibility?

Section 508 of the Rehabilitation Act states electronic information must be accessible to disabled users. The internet has changed the world for all of us, and as more of our devices are able to access the web, the more serious implementation of 508 becomes. Title III of the ADA requires businesses to provide equal access to their goods and services to individuals with disabilities. So be sure NOT to join the growing list of businesses trying to avoid litigation, or those that have already been sued. Your website needs to be 508 compliant!
So why does web accessibility matter from a legal perspective?
First of all, your business could get sued, which is expensive and embarrassing.
2. Why Web Accessibility matters to your business
Never create barriers for your customers. Obviously the more customers you have, the better. Accessibility opens the customer platform. Also, (just in case you are trying to make the case that you don't need a bigger client base) what happens if your customer becomes temporarily disabled? Let's say they break an arm, and can't use a mouse to access your website. Now what? We are all only temporarily abled, right? Be sure your business and website are planning ahead.
3. Why Web Accessibility matters financially to your business
Especially relevant to your bottom line is savings and peace of mind on potential lawsuits. It's always cheaper to do the right thing and not get sued. Creating a compliant site uses web development methods. This decreases resource demands while increasing page speed. Over time, the cost of running a website will impact your bottom line. Complying boosts search engine optimization as well. As a result, an accessible website will strengthen search engine visibility for free!
4. Why Web Accessibility Matters from an Empathetic Perspective
Most importantly, creating a website that is accessible to the greatest number of people possible, enables more people to access your valuable business information. Information empowers, plus, it's the right thing to do; because of this very reason Web Accessibility should be a priority for your business.
5. Why Web Accessibility Matters to You
Furthermore, we are all just temporarily abled. Think about it… tomorrow you could break your arm. As we age our vision and hearing will go, we will move slower. Why are we developing an amazing web of information that we ourselves will not be able to take advantage of in years to come? Let's all be a part of developing something that has our slower, future selves in mind as well as ourselves today. Most important of all, we are a forward thinking generation, with information at our fingertips. Let's make sure that information is available to more people, and let's do it – Right Now!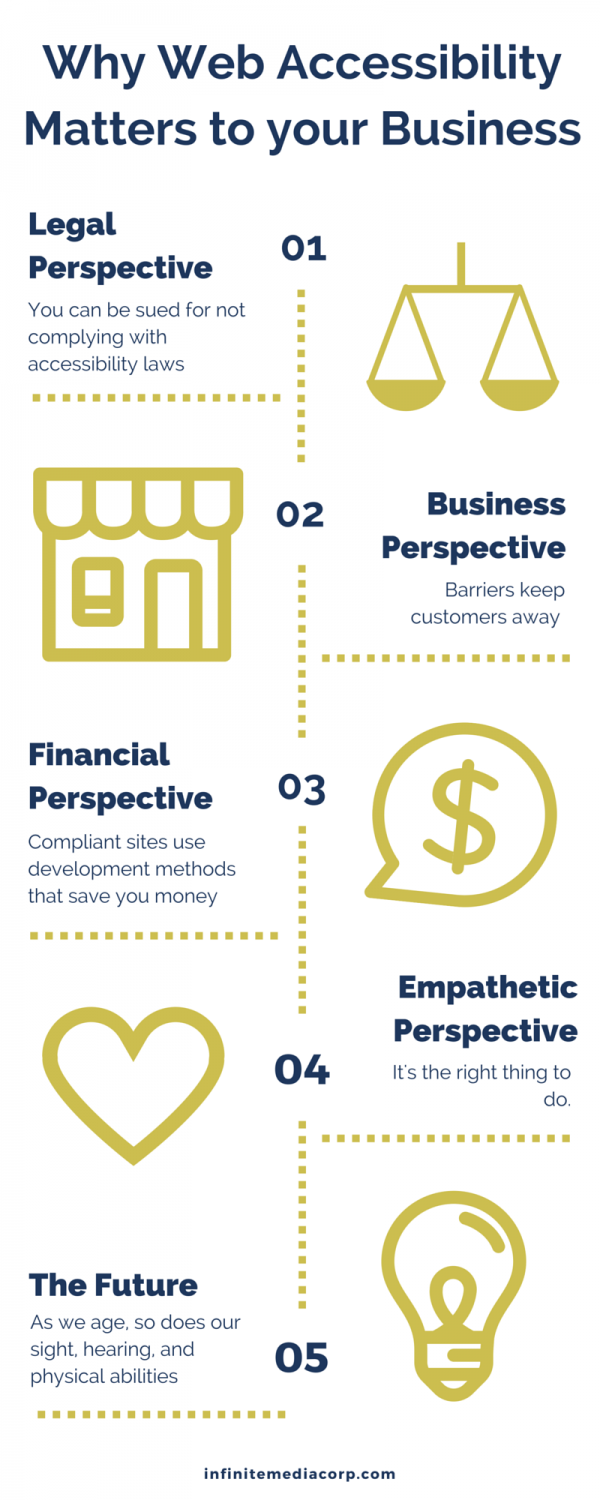 Tell Us Why Web Accessibility Matters to You!
We would love to hear about why accessibility matters to you. Please tell us in the comments below.
Since we love to talk about Website Accessibility, if you are still struggling with wrapping your head around this topic, please reach out to us on Facebook and Twitter. If you would like to speak to us further about making your website accessible, our Infinite Media Corp. Web Accessibility Experts are always happy to assist.