7 Things You Didn't Know About Image Optimization

What You Need to Know About Image Optimization
Whether you're a designer, blogger, small business, and/or social media user it's important to understand how to properly upload images to the web.
Images make up a huge chunk of the internet. Therefore, in this post, I share facts about image optimization you may not be aware of but should know in order to guarantee success with your visual content.
This post includes insights on:
Image titles
ALT tags
File size
Display size
Photo editing tools
Image text
Destination links

What is Image Optimization?
Before we start, I wanted to point out that image optimization is the way in which you save and create images for the web. The title you assign to the image, the size, and where you post it are all part of the process. Proper optimization will also help with your website's load time and the likelihood your images will appear in Google searches.
7 Facts About Image Optimization You May Not Be Aware Of
1. Image titles are more important than you think.
When uploading an image, you DO NOT want the image title to read something like, "00118675309LMNOP." You need to rename the image in order for search engines to recognize what it is. Don't leave your camera's default name.
When naming your images, be descriptive, but don't over complicate it. You want to include important keywords in your title while giving it a name that people are also likely to type into a Google search.
For example, if you're a Long Island nature blogger, which image title do you think makes more sense?
2.  ALT Tags are necessary.
If you've been leaving the ALT tag blank, it's time to change that. In case you weren't aware, an ALT tag is an alternative text to an image. In WordPress, the ALT tag field looks something like this.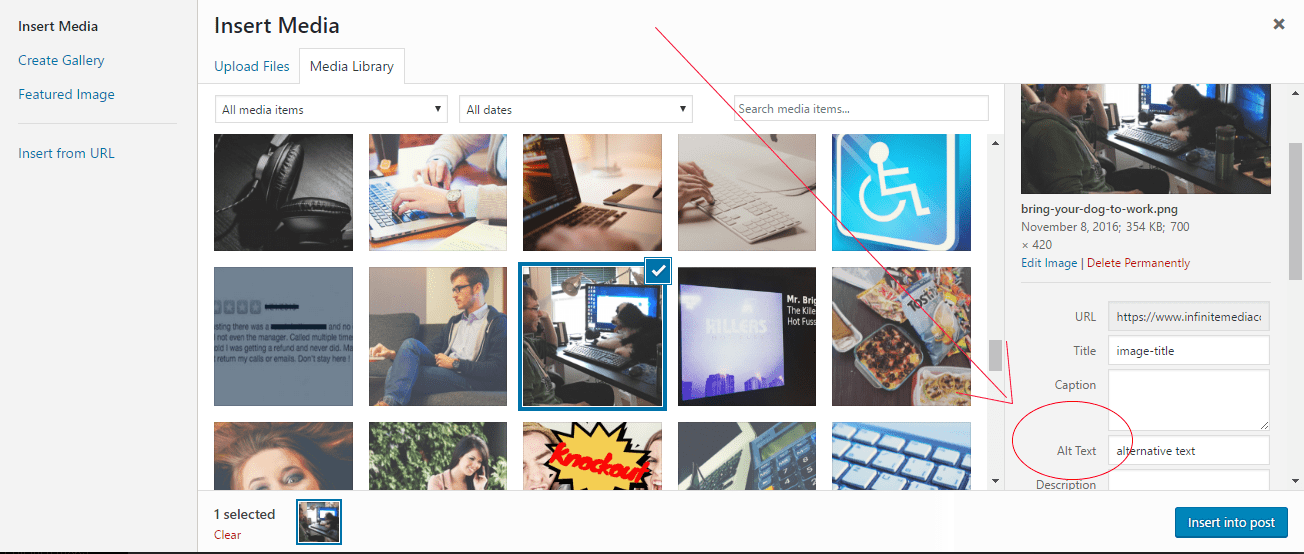 In the event of functionality errors, the text you fill into the ALT tag will appear inside the image container when the image cannot be displayed on a website.
It also helps search engines, like Google, understand what your image is about. Google doesn't "see" in the same sense that humans do. Therefore, you want to fill in the ALT tag text as if you are describing the image to someone who cannot see.
This in turn (along with a strong image title) also ensures web accessibility which is important for Google and visitors utilizing screen readers.
3. Image file size matters.
People don't have time to wait for a website to load, they'll leave if images take too long to fully appear. If you have slow loading images, chances are your file sizes are way too large.
The larger the file size the longer it takes to load and the more likely visitors are going to click off your page. Therefore you need to compress or shrink the file size of your images for the web.
There are a number of easy and FREE ways to do this. My go-to tool for compressing images is TinyPNG.com

Other tools include:
4. Not all image posting platforms are created equally.
Aside from the file size, there is also the image display size to consider. Whether it be social media, a blog, your website's homepage, etc., each outlet displays images differently.
In other words, just because an image may look good in one place, doesn't mean it won't appear blurry or cropped off on another. Are you uploading a "featured image" on a web page or a profile picture on Instagram? The display size is significantly different between the two.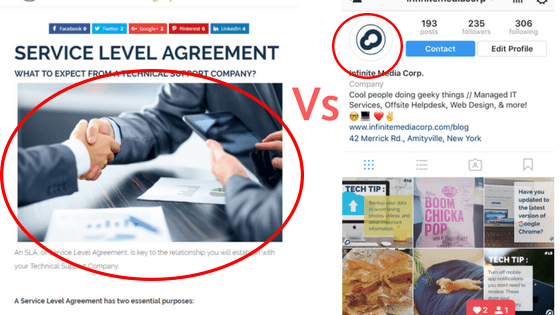 Images will also display differently across each social media platform. A horizontal image works great on Facebook, but on Pinterest, an image gets more attention if it's vertical. For more insight, check out this guide to social media image sizes.
5. Not all photo editing software costs money.
While Photoshop and Illustrator are the most used photo editing and optimization tools among professionals, they're not the only ones that can do the job. There are a handful of excellent tools you can use for FREE online. The tools below can offer you templates in the correct social media display sizes too.
Photo editing tools to try:
6. Be careful with image text
Observe caution when adding text to images. Make sure the text fits properly and won't get cut off or blurred when uploading to the different channels. You also want to make sure the font is readable and that you copy the text into the ALT tag.
If you're uploading a big, fancy header image for your blog, consider using your website's design layout to set the text over the image, rather than uploading an image with the text already on it. If you are using Visual Composer within WordPress, you can use this step-by-step guide to help you do such.
It's often better for your SEO if you don't create images with text. Instead, have the text on your blog or web page display over images.
7. Links Are Your Best Friend
And lastly, don't forget to link your image. After all, the web needs to know where that image belongs.
For example, if I'm Googling or browsing Pinterest for easy dinner recipes for kids and your "one pan cheesy pasta" picture catches my eye, when I click on your cheesy noodles, it needs to bring me to the source of the recipe (aka your blog).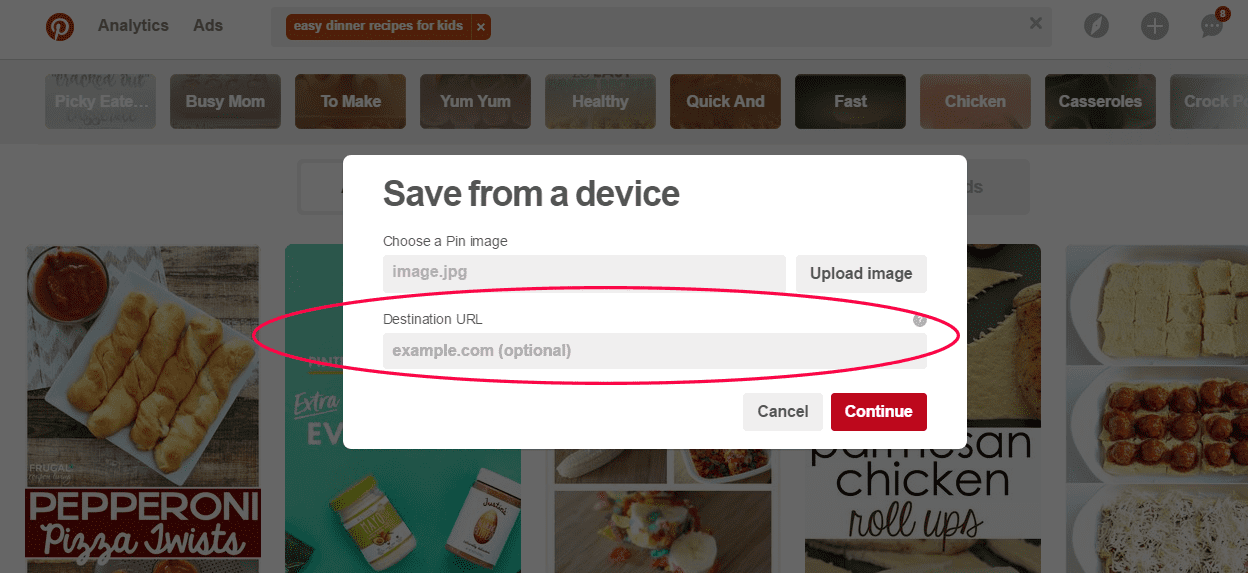 Whether it's food, t-shirts, or a happy customer shaking hands with an insurance agent, no matter the industry or channel, you posted your image with the intent to drive traffic back your brand. Therefore, make sure you link in order to benefit.
In WordPress, you can always edit your images to include links as seen below.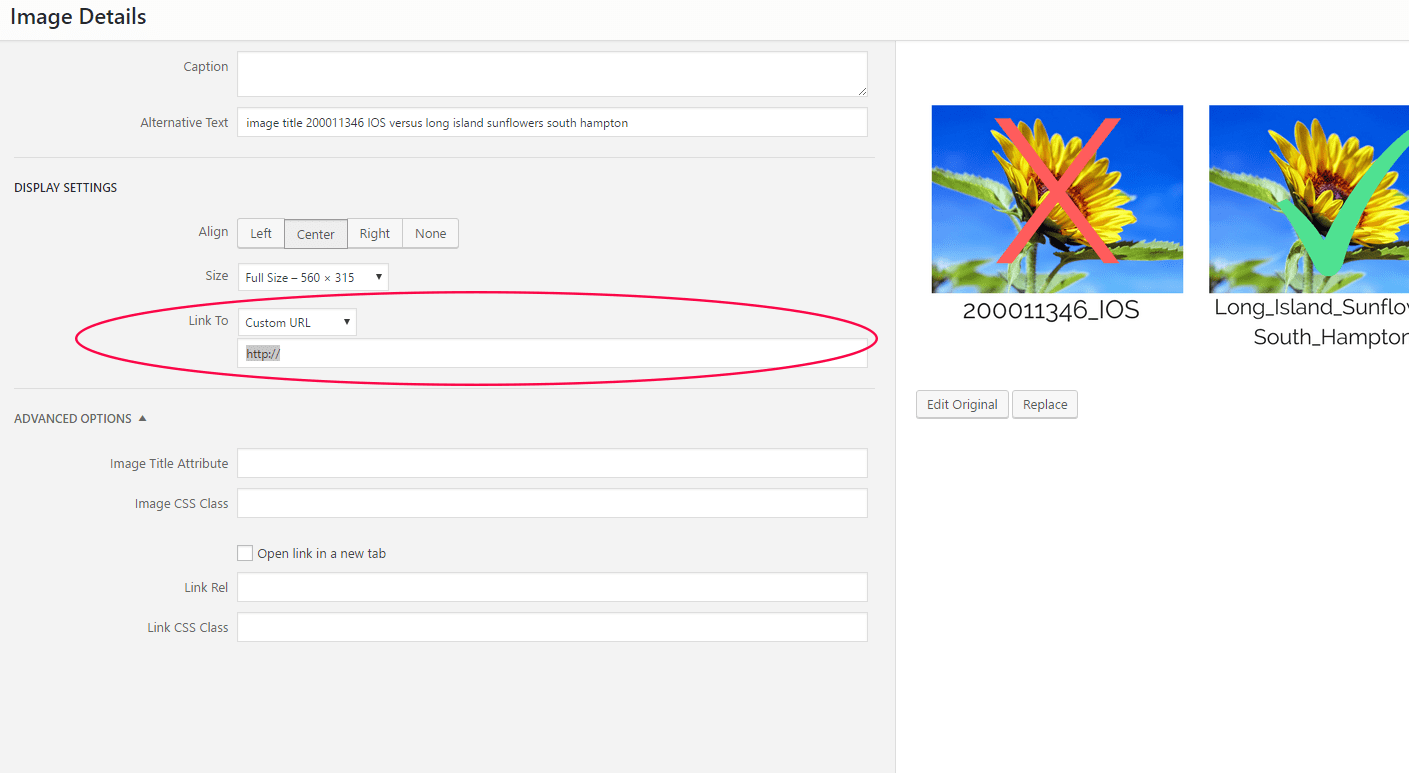 Additional Image Optimization Advice
Don't forget that the image itself is also extremely important. Make your images are engaging. The internet is full of images. Every time you post an image, you are competing with thousands of others posting similar ones. Therefore, don't upload images for the sake of uploading images, make sure it enhances your content.
Remember that an image is only as useful as you make it. It might be a breathtaking photo or one of a kind product image, but without proper optimization, it's close to useless.
Conclusion
Now that you have a better understanding of what image optimization is and requires on your part, go upload some pics!
If you have any useful tips you would like to share with us, please do! We at Infinite Media Corp. love to provide small businesses with helpful ways to improve SEO and the blogging experience.