Canva iPhone App Review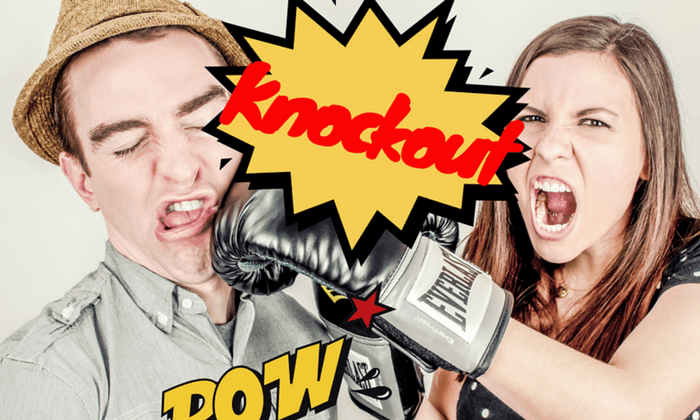 Canva has widely become the go-to online tool for small businesses looking to compete in the world of visual media.
The recent launch of their iOS mobile app answered the prayers of small businesses and social media managers everywhere.
As the need for enticing visuals consumes social media, Canva continues to have users' backs. Therefore, I couldn't resist sharing the news and letting you in on what I love about the new Canva app.
In this post, I share 5 features about the Canva iPhone app that are a real knockout!
And it is a knockout!
Now you can make killer social media photos faster than you can say "Adobe troubleshoot issues." I made the above photo in under 2 minutes (and it only took me that long because it was my first go, I was getting a feel for the app).
I used to be ashamed that my Photoshop skill level never really made it passed novice. When Canva.com swooped in and rescued me like a Visual Superhero, kicking major butt, I too joined the crowd desperately longing to keep a mobile version in my pocket. Thanks to Canva my visual content no longer fears the villainous threats of Photoshop failures and continues to be protected under the care of this new app.
5 Things to Love About the New Canva iPhone App
1. The Templates
You have all your basic social media platform sizes available, and then some. (Canva promises more design types are coming soon, but for most these sizes cover all bases). The predesigned templates are gorgeous and they make designing ridiculously simple. If you're a travel blog, man have you got your design work cut out for you here!
Every type of blog or business though can make use of the templates. And for the app's first go, I'm impressed with the selection they provided for free! There's the modern and edgy feel audiences love and it's all predesigned for you. Their templates take the headache and time-suck out of design work, especially for non-designers trying to get their social media content noticed.
2. Customizable
If you're worried these templates don't quite represent your brand, don't be. Not only can you change fonts, colors, filters, and add and remove elements, you can upload your own photos from your phone's library. You can even take a picture on the spot and it will upload into the template. Check out what I did right from my desk. 1 minute, bam!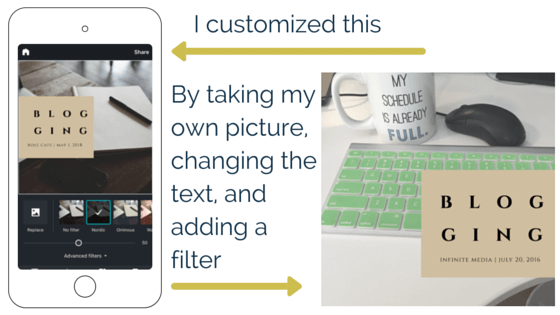 3. User friendly
Anyone can use this app! It is super simple.  I started to worry my chubby fingers might not be suitable for designing images on my phone, despite how badly I wanted to. I was pleased to learn the touch element is very easy to use. You can stretch, move, and turn images freely with your finger tips to add to the customization.
4. Effortless Text and Elements
Personally, I love the pre-designed text options. Can't think of something to say yourself? That's perfectly fine because you can pick from the fun, eye-catching sample texts. Maybe you need to promote a sale on Instagram? Pick from one of their text templates and customize it to your promotion. I'm also a fan of hashtag images which work well for social media contests or tracking live events they're hosting. The predesigned templates, text, plus the pick-and-go elements make the most effortless combination, making you look like a visual Rock Star!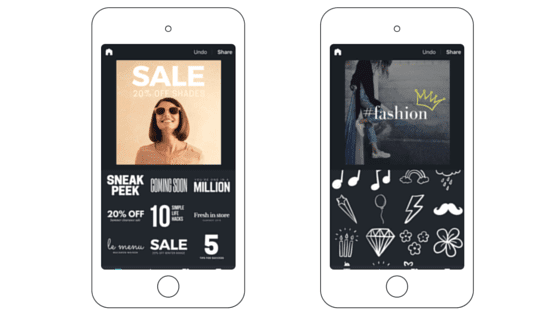 5. The convenience
The best part about this app is the level of convenience it provides for busy marketers on the go. What's not to love about having the awesome design powers of the Visual Superhero in your pocket wherever go? You never know when creativity may strike. Not to mention we have become a society that lives off our phones. Mobile apps generally give users a level of convenience we can't achieve from our desktops, and Canva is no exception.
Final Thoughts
Now, granted the app won't be able to do everything you do on the desktop site and does have limitations.
However, it is a super simple way to quickly throw together a trendy Instagram pic or last minute blog title.
I won't be designing every piece of visual content on the app, but I will use it for quickies. It's a great addition to my tool belt and I look forward to how it will continue to impact the visual world and lives of small business owners.
If you haven't downloaded the iPhone app yet, you can do so here.
If you would like to know more about Infinite Media Corp and what else we have on the blog check us out now and feel free to connect on Facebook and Twitter. We'd love to know what you think about the app?