Hard Work Pays Off
Friday Favorites, Issue #3
It's true, hard work pays off. In honor of the Labor Day weekend upon us, this week's Friday Favorites are packed with inspiration to celebrate those who know how to hustle. You have to work hard for what you want! Therefore, this issue includes a TED-ed lesson, word of the week, quote, podcast, tech tip, mobile app, and Long Island event, all focusing on this week's theme, HARD Work Pays OFF!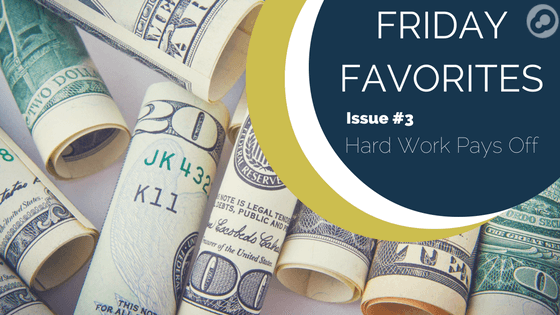 TED-Ed Lesson We Recommend
Why it Pays to Work Hard – Richard St. John
Here's why hard work pays off. Richard St. John informs us that you don't always have to be the smartest to be the most successful. You just have to be willing to work the hardest. Hard work is the real secret to success. Take it from the guy who has interviewed some of the most successful people in the world.

Word of the Week
Workafrolic
Our word of the week is highlighted in the above TED-ed lesson. It's a noun commonly confused with the word workaholic. Only these diligent workafrolics have fun working hard and a genuine love and passion for what they do.
Here at Infinite Media Corp. we are all workafrolics!
Quote to Remember
"Opportunity is missed by most people because it is dressed in overalls and looks like work." – Thomas Edison
I don't like wearing overalls either. However, often our ideas, campaigns, and projects fail because we don't want to roll our sleeves and bust our bums laboring in the filth. Get dirty. Work hard. Opportunity doesn't present itself often.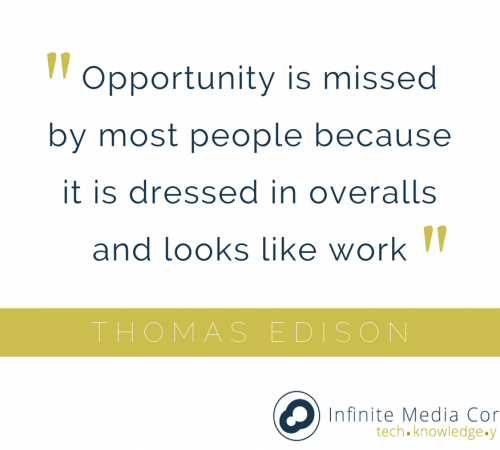 Podcast we're listening to
This one has been around for a while, but it was recently recommended to my team and me, and now we're recommending it to you. With inspiring stories of real life entrepreneurs, each episode takes us through the hard work and lessons learned by successful business owners. If you're a small business owner this podcast is a must!
Tech Tip of the week
"Keep your technology functioning at lightning fast speed! Computer running a little slow? Programs crashing? Try a restart!"
You're a hard-working individual, and chances are your computer, laptop, phone, tablet, etc. is working just as hard as you in order to achieve the success you're aiming for. When we overwork our devices without giving them time to rest and shut down, they can get a bit groggy (just like a human). If your device stops functioning properly, restart it. Remember to shut it down at night and close apps you're not using to prevent the need to restart in the first place.
But note restarting your machine is only a temporary fix too. If this becomes a recurring issue, it's a symptom of a larger problem.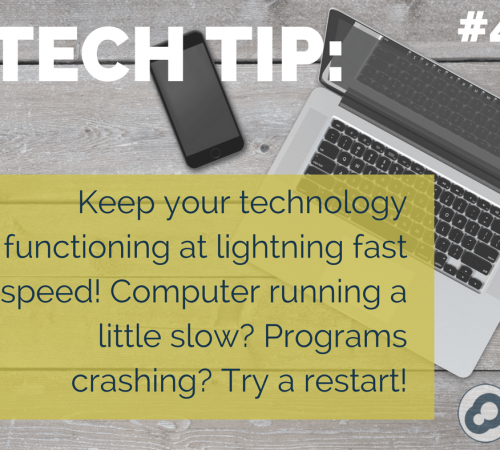 Mobile App we're using
Google Calendar
As a result of all your hard work, you are very busy! Even Workafrolics need a reliable calendar. We say ditch the calendar on your smartphone and download the Google Calendar app. With helpful tools and a really cool interface, it's perfect to help keep you on track.
Long Island Weekend Recommendation
Lastly, though hard work does pay off in the end, we should still find time to enjoy the world around us. Our recommendation for Long Islanders this Labor Day Weekend is to head to the annual Mother Cabrini Festival. It's Long Island's largest Italian feast and outdoor carnival in Suffolk County and a great way to celebrate all the long hours and hard work you put into this summer.
Of course, if you're not on Long Island, keep in mind Labor Day Weekend is full of festivals and fairs all over the country. Here is a list of some of the biggest festivals around the country.
Want to share your inspiring success story with our team? You could be featured in our next Friday Favorites! Head to our Facebook and tell us how hard work pays off for you.